Directions:
Newlands Corner is on the A25 in North Surrey, between Dorking and Guildford. It is shown on the Google map above as the red pin in the centre of the map. You can move around the map above in real time by clicking and dragging to change the point of view. You can also zoom in and out and change the map type to a satellite image or hybrid satellite and map image. The smaller map to the top right of the main map shows a larger scale overview, which is can also be dragged. No excuse for not finding this place then!
It's a car park and picnic spot on top of a hill with fabulous views to the south, as can be seen in the satellite images.

Who goes there?
Quite a lot of old classic bikes congregate at Newlands Corner. The average age of the bikers here also tends to be a bit higher than those who meet down the road at Box Hill. It's not an exclusively biker spot, so you get lots of families walking or bicycling through the hills.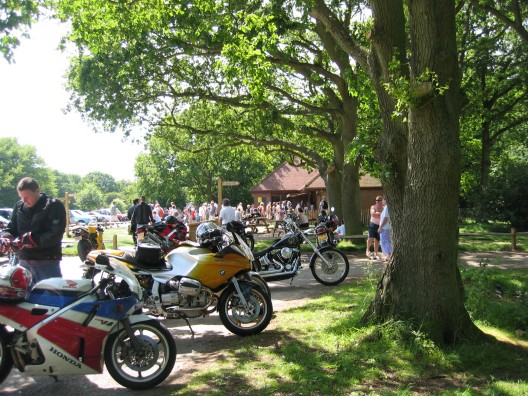 Refreshments:
On site there is a popular cafe selling a range of hot and cold drinks and food. The egg, bacon and tomato roll is a classic of it's kind. There are several picnic benches near the cafe, or you could go and sit on the hill to the south of the car park admiring the view whilst scoffing your breakfast.