Some time ago my interest was piqued when a Trixster announced that he'd ordered a rack affair for his 12S from Hattech in Germany. I don't plan on taking a pillion passenger on mine (surely 'pillenger' should be a word?) and had been wondering how to add a luggage option to augment the pannier system. My bike came with the colour-matched cover in place of the pillion seat (very natty it is too), as well as the original seat pad. I took a butcher's at the Hattech product...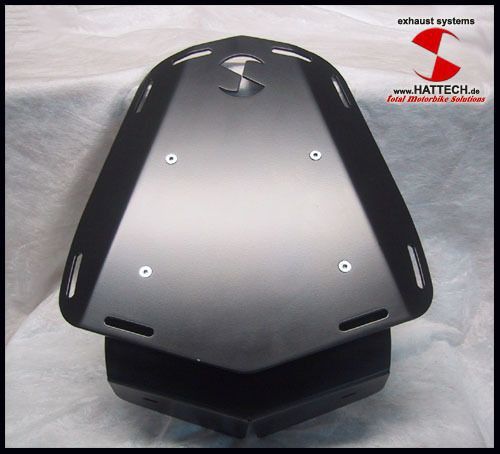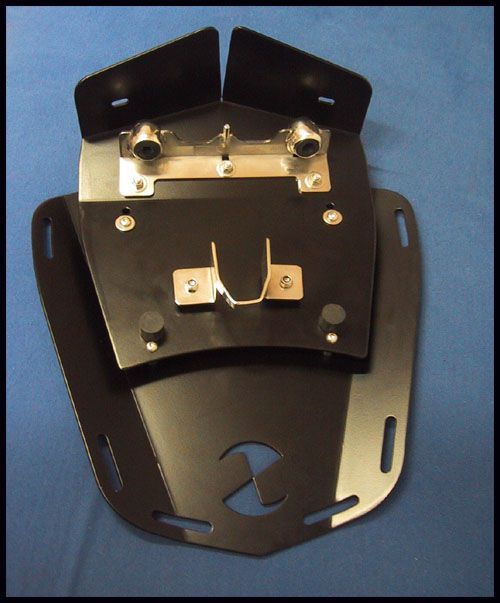 Looks like a nicely engineered bit of kit - and so it should for Euro250! (since reduced to Euro199, to be fair). Obviously this replaces the entire seat or cover unit and it seems to be up to the individual if they want to add a bum stop pad to finish it off...
TBH I was a little disappointed at how high the plate seems to sit above the tail unit. I know there needs to be enough clearance for feeding bag straps through the slots provided, but still.
I also wanted to explore the possibility of fitting a tank bag ring (fuel cap mounting) behind me on the bike. I want the convenience of a clip-on/off tank bag but without having it between me and the 'bars - can't get on with the things (maybe summit to do with short arms and a belly
).
So, I got to thinking that I could knock up something reasonable to suit my needs for much less than Euro200+...
The base of the original and redundant pillion seat seemed to be very sturdy, so I planned to use stand-off spacers secured to the base to support a plate. I also decided to have a go at making 2 plates - a small one for a clip-on bag and a larger one to allow attachment of a strap-on tailpack or to bungee a tent etc onto. I purchased a piece of 5000 series 5mm alloy plate online (the local factor refused to sell me any as I wasn't trade
) and set to it. Mocked the plates up from cardboard then scribed the cut (and bend) lines onto the plate as well as knocking up a scale drawing. I also bought a length of 12mm diameter 316 stainless steel bar for the stand-offs. One local engineering firm knocked up the threaded stand-offs for a tenner and another cut the plates, the larger with slots and cut-outs as well as 2 bends, for £50. I bought the A2 stainless fasteners required from the place in Weymouth I always use, Eurofasteners. Once measured up (multiple times!) I took the plunge and used an old cylindrical gasket cutter to remove seat cover and foam down to the base to allow fitment of the stand-offs. Had to use low profile machine screws to mount the stand-offs, finished with a spot of thread lock. Next was the awkward part: drilling mounting holes in both plates. Probably a very amateur solution, but it worked, was to use blu-tac on the underside of the plates. Once carefully lined up on the stand-offs I just pressed down firmly and was guided for drilling by the impressions left.
I shelled out for this tank bag and mounting ring from SW Motech. Nice bit of kit but bloody expensive really at just under £120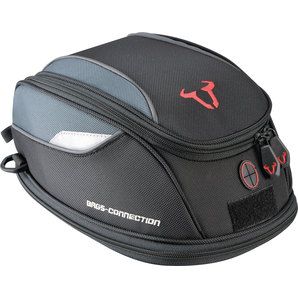 Mounting ring fitted to the smaller plate and then all finished off with a few coats of textured satin black paint (good stuff - a bargain from Aldi). Yes, powder-coat would be more durable but I'll see how this goes. Final touch for the larger plate was a piece of neoprene to provide a non-slip surface.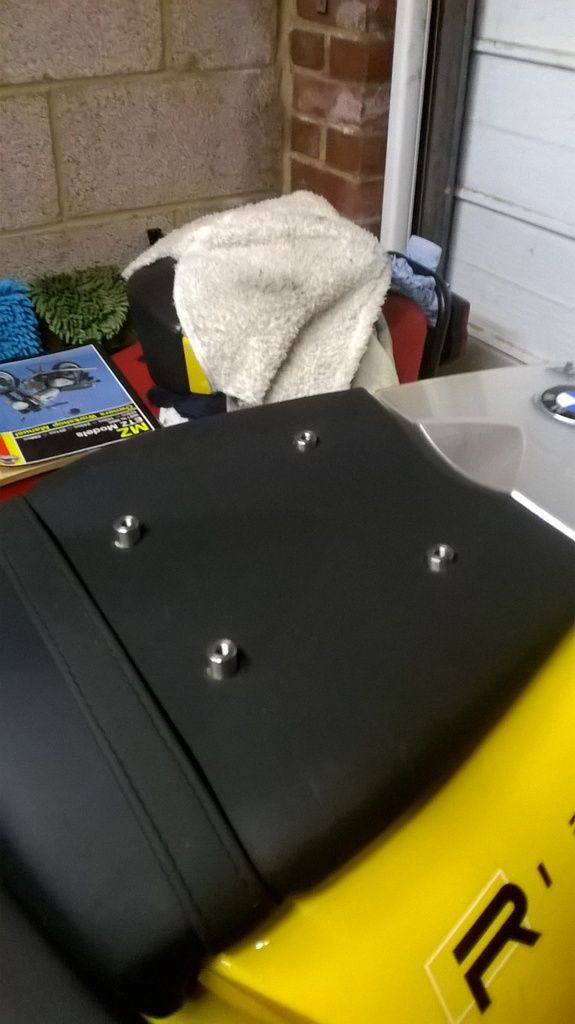 Just get away with these machine screws - still a tight fit on the bike.
Very pleased with the minimal clearance with plate fitted.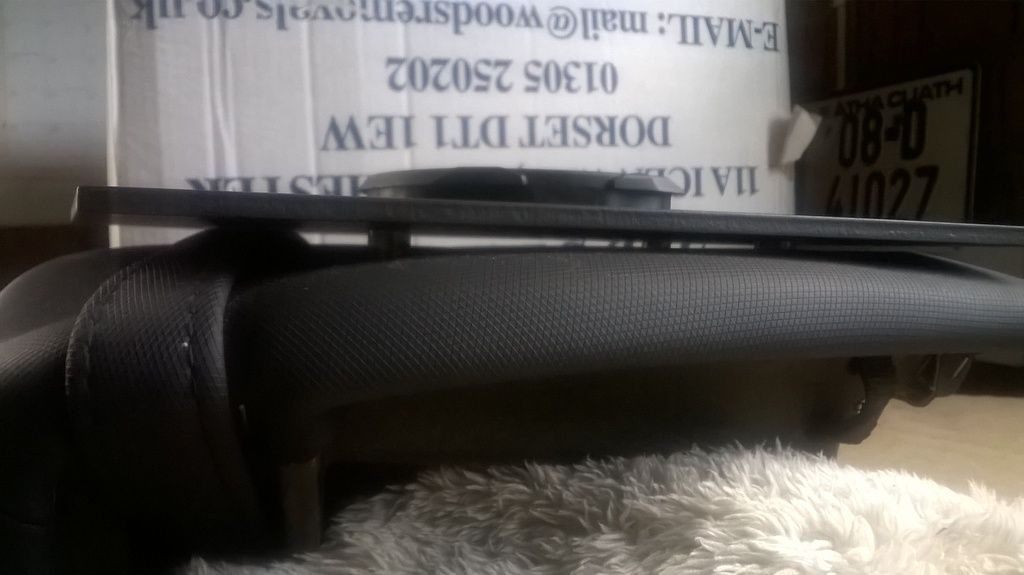 Finished smaller plate ready to accept the bag. Works a treat and IMO doesn't look too shonky. With hindsight 5mm plate is overkill for this application - 3mm would do the job.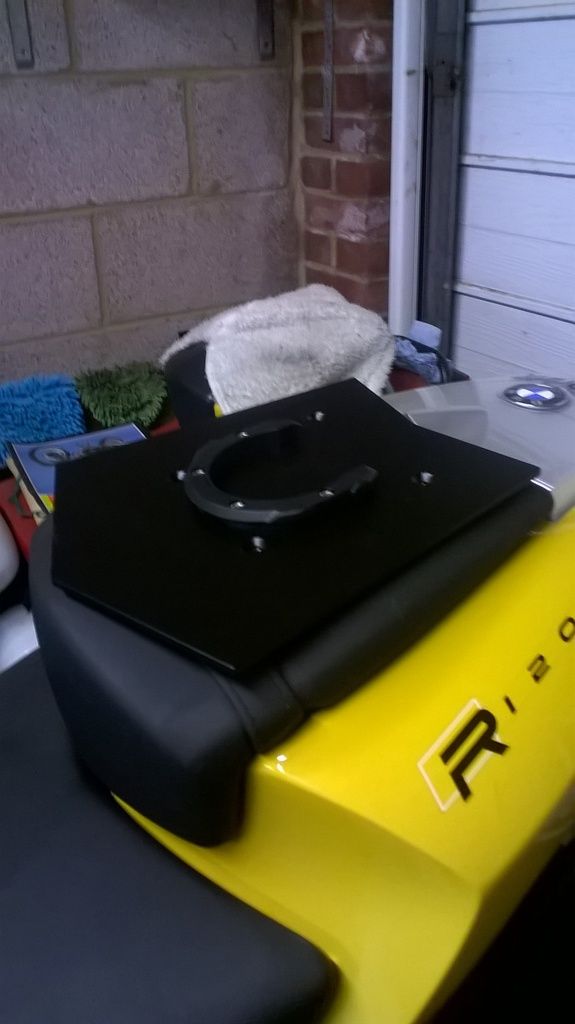 And the larger plate fitted. Sorry about the orientation.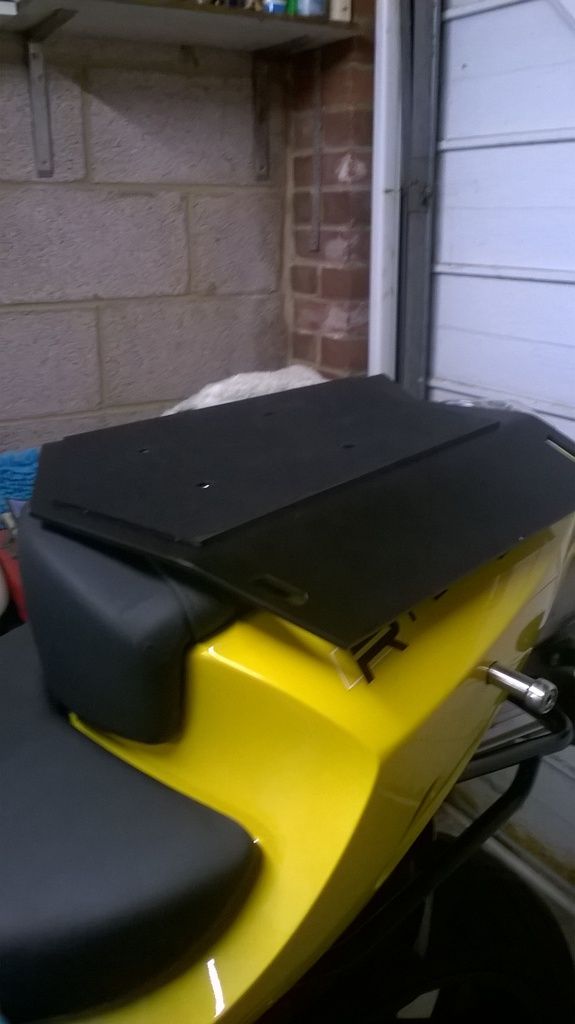 I know this plate is a little less elegant and you may wonder why it's not more waisted towards the rear to match the flow of the tail section? Well, the little cut-outs towards the rear are guides for bungees so I may locate one end on the pannier frame. The width of the plate ensures that any bungee or strap clears the bodywork. I've tried my BMW tail bag with mounting straps too. Fits well without much faff and is secure.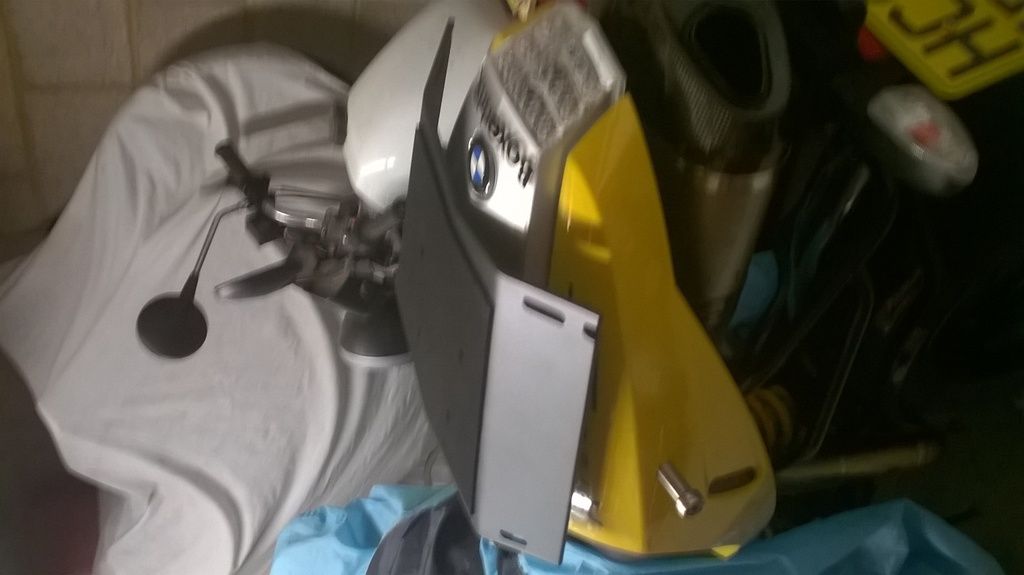 All told both plates and mountings have cost me £108, which I think is reasonable. Neither plate affects the fitting of the panniers either. Reckon I've got a luggage solution for all eventualities now.
Mike